Art
---
Our Intent
Art Vision Statement
Every student is supported to develop their artistic ability, regardless of the level of artistic need.  Every student is encouraged to explore their creativity and flair, expressing their ideas and views confidently through the language of visual art.  Artistic achievement is celebrated in the school.  Every student perceives the value of creative expression personally and in the wider world context through varied practical skills based learning.
Art Department Aims
All students are able to access a creative, independent skills based visual Art education through a range of inspiring and engaging learning opportunities.
Students learn to interpret and utilise the core artistic elements such as: Line, tone, colour, shape, space, form & texture in a personal, critical and meaningful manner.
Students develop their self-awareness and confidence through the mastery of challenging subject based skills, such as drawing, sculpture amongst other media and techniques.
Students are challenged and supported to achieve through structured, scaffolded tasks and a developmental assessment framework.
Students develop intellectual competencies of inquiry, analysis and critical thinking through written, visual and oral communication using art vocabulary.
Students develop an understanding of British values especially focusing on mutual respect and tolerance for others valuing different perspectives, identities and opinions.
Students develop an appreciation of Art and Design and its integral contributions within world culture and transferable skills opportunities.
The JMHS Art Department Vision Statement and Aims have been developed to ensure that key objectives from the National Curriculum for KS3 Art and Design for England are included.  Alongside these an increased emphasis is placed on British Values, SMSC and students development of transferable life skills (problem solving, independence, planning, commitment and analysis).
Learning activities and scheme development is based on the principle structures of the circular creative process. Students are introduced to a concept or theme of study, making connections to their prior knowledge and experience. They are encouraged to analyze and interpret it through the experimentation and acquiring of new skills, taking inspiration from others as well as their own exploration.  Students are encouraged to develop and create original responses reflecting on what they have learned before refining and the integration of further concepts.
---
Curriculum Outline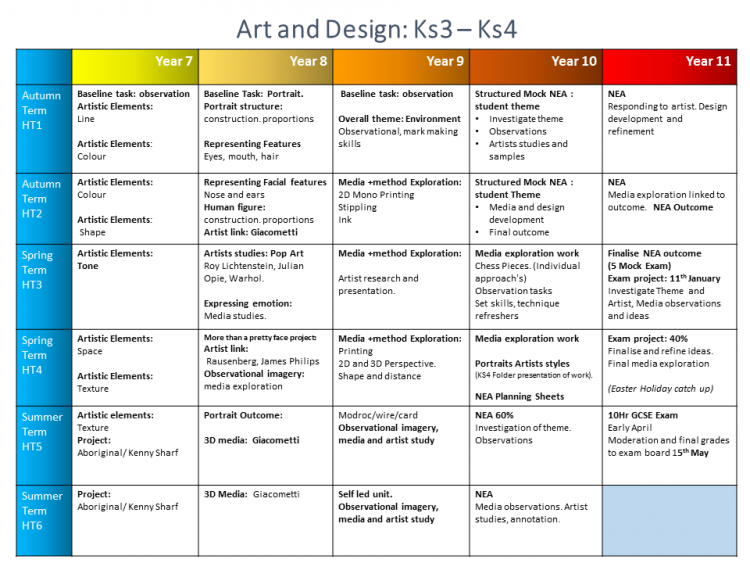 Year 7
Students arrive at KS3 having had a varied experience at KS2 having come from a range of educational backgrounds. The Year 7 Scheme of Work aims to revisit then build on the KS2 national curriculum aim:
Pupils should be taught to develop their techniques, including their control and their use of materials, with creativity, experimentation.
To ensure inclusion and equality of experience during KS3 all students are introduced to different media and application techniques regardless of previous experience. Using the Artistic Elements to help develop their understanding of how gained knowledge and skills acquisition can be applied to realize intentions.
1 hour lesson per week
In Art students will study The Key Elements of Art. The curriculum will be split into 7 modules; Line, Tone, Colour, Space, Form & Shape and texture; with the final module being a standalone project and a culmination of all key elements of art. (Linked to Aim 2)
The sequencing of the modules allows for each preceding element to be revisited in the following module with an emphasis on key art vocabulary and understanding of the key elements. (Aim 5 & 7)
Techniques learned during the first module will be the foundation of the second and so on.
For example: the first module; the techniques learned in Line will be revisited in the following module of Tone, where students will demonstrate how linear techniques can be applied to tonal shading and so on.
This is to ensure knowledge and understanding is embedded and understood. (Aim 4)
The study of the key elements of Art in Year 7 equip students to apply understanding and skills developed across the rest of their art education. (Aim 4)
Year 8
Building on the media and technique skills taught through the artistic elements the Year 8 Scheme of Work aims to give students increased independence in applying their knowledge to a range of visual imagery. It encourages them to strengthen their ability to analyse and evaluate their own work making media and technique decisions to realise their intentions.
The project is designed to ensure that students have a broad range of opportunity to use a range of media and techniques within the two year KS3 experience including 3D design in the summer term. 
The portrait theme explores areas of the SMSC curriculum aims. It enables students to explore differences in experiences, learn more about themselves and reflect on what shapes the individual while respecting diversity through exposure to portraits from history, various cultures and the creation of creative, individual responses.  
1 hour lesson per week
In Art students will learn about portraiture. The curriculum will be split into 4 modules; Rules of Portraiture, Julian Opie Pop Art, Self-Representation in Portraiture and the figure. (Aim 1)
Students will be encouraged to put into practice their skills and knowledge learned in year 7 and the modules will build upon the Key Elements of Art revisiting and expanding on prior learning. (Aim 4 & 2)
The sequencing of the modules outlined above allows for students to learn the basic rules and proportions applied to portraiture. They will practice generating realism within their work using pencil and pen, line tone and texture. This experience and approach helps embed good observational habits and techniques which are relevant to refining accuracy of future visualization tasks. Students are introduced to the concepts of personal similarity and differences all being normal. (Aim 1, 2 & 3)
The second module is based on the work of Julian Opie and his links to pop art. Students will learn to apply their knowledge of the rules of portraiture to a simplified portrait. Students will develop their control of paint and colour mixing. The study of a commercially viable artist enables students to start to engage with the role of art in popular culture and design (Aim 1 & 6)
The third module is an exploration of how a self-portrait can be a representation of their personality and character. In this module students will demonstrate their knowledge of portraiture and the key elements of art using a broad range of individually selected media. The creative freedom of this task develops student's independence and responsibility for media selection helping equip them for Year 9 and GCSE course structure (Aim 1, 4, 7)
The fourth module revisits proportional drawing and realistic representation as students explore figure drawing. In this module students develop a three Dimensional response introducing new materials and working methods (wire Modroc or clay) (Aim 1, 2 & 4)
Year 9
The Year 9 Scheme of Work is designed to enable students to revisit and explore in more depth the knowledge and skills required for GCSE. Students are exposed to series of short timeframe skill based tasks to enable them to develop and refine their technique. Students will start to develop informed personal preferences. The Spring term allows students to explore sculpture and structure (architecture).
2 hour lesson per week
Students will respond to the broad theme of The Environment, enabling them to explore this theme and its meaning to them and others. (Aim 3 & 6)
The first two terms focus on exploration of a wide range of media and Artist techniques. (Aim 1)
Students learn how these can be applied to achieve the key elements of art through the production of a range of 2D imagery.  The aim is to equip students with a tool box of methods and techniques which when practiced they can then apply appropriately to their GCSE projects. (Aim 1, 2 & 4)
As well as media exploration students have a formal introduction to annotating art work to enable them to respond to theirs and others work effectively using appropriate Artistic language linked to the Artistic Elements and exploring meaning/intention. Students are encouraged to offer informed opinions validating their own conclusions within their written responses. (Aim 7)
They will be taught the rules of perspective and 3D representation through a series of taught challenges which are then developed into a final image. A study of composition method and visual hierarchy is completed which students apply to their sketch book presentation and visual outcomes. (Aim 4 & 5)
The final module in the summer focuses on sculpture and responding to the work of artists and designers revisiting the artistic elements shape, space and texture.  This opportunity is taken to enable students the opportunity to create a collaborative response ahead of solely independent work next year. (Aim 2 &5)
Year 10
2 or 3 hours per week
In Art students will learn about the structure of a project and how to apply their previous knowledge and skills to the OCR specification and assessment objectives. The curriculum will be split into 2 modules; mini personal investigation leading to the Personal Investigation coursework project that is completed in year 11, formerly assessed and submitted to the exam board for moderation. (Aim 5)
The sequencing of the modules outlined above allows for the students to begin the year utilising and exploring a range of media in an expressive way, re-connecting with creativity and exploration after the summer break. (Aim 1 & 4)
The focus of skills in this project allows students to practice and re visit parts of the previous curriculum. (Aim 4) The first module is the students' first introduction to the layout and specification of the GCSE OCR syllabus and assessment objectives. (Aim 5) Students build upon their previous skills based learning and transform these skills into a working project where students choose their own theme and produce a mini project. (Aim 1 & 6)Students will use the skills and abilities they have acquired throughout the course to prepare for their final projects. The final module is the start to their formally assessed Personal Investigation that constitutes 60% of their final GCSE grade. Students will choose their own theme, with teacher guidance, and will be guided through the beginning of their GCSE portfolio. (Aim 6 & 7)
Year 11
2 or 3 hours per week
In Art students' experience has two key components.
The Autumn term is dedicated to the completion of their personal investigation (60% of their final GCSE grade). Half term 1 is allocated to Artist investigation, creative design development, media exploration and refinement. (Aim 1, 2, 4, 5, 6 & 7) Half term 2 is allocated to AO4 (personal response/outcome). Work is submitted to teacher in February for grading. Students are informed of their marks in line with JQC guidelines.
In the Spring term students will commence their exam board set (pre-release theme) investigation. (Aim 1, 2, 3, 4, 5, 6, & 7) This follow the structure first introduced to students in year 10 and the same format applied to their Personal investigation coursework. Students sit their 10 hour final examination for the completion of their A04 response over two days. The date of the final examinations can vary depending on exam board deadlines for mark entry and Easter school holidays. Students must submit all preparatory work ahead of the first exam session and final outcome at the end of the second day of examination.
From this point onwards students are no longer allowed access to either their personal investigation or their exam project. The remaining few Art lessons are allocated to structured revision for other subjects ahead of students starting study leave.
---
Key Stage 3 National Curriculum Audit for Art
---