English
---
Aim
Our aim is for students to:
read easily, fluently, with good understanding and comprehension
develop the habit of reading a breadth of texts for information and for pleasure
approach texts critically: analysing, inferring and evaluating in order to understand writers' intention
acquire a wide vocabulary to facilitate reading, writing, and oracy skills
write clearly, accurately, coherently, perceptively and engagingly for a range of purposes and audiences
use discussion in order to learn, explaining their own views and listening to those of others both informally and formally
use the interpretations of other scholars and critics to inform their own viewpoint and written explorations
develop cultural capital by reading, writing and talking about lives beyond their own
Course principles
Examples of how we match and exceed the National Curriculum (NC):
read a wide range of fiction and non-fiction, including in particular whole books, short stories, poems and plays with a wide coverage of genres, historical periods, forms and authors.
We are studying up to date Young Adult fiction as well
The range will include high-quality works from English Literature, both pre-1914 and contemporary, including prose, poetry and drama
Shakespeare (two plays in Key Stage 3) we read a Shakespeare play each year in Year 7, 8, 10 and 13. We also study a selection of Shakespeare's sonnets and extracts from other plays.
understand increasingly challenging texts through: learning new vocabulary, relating it explicitly to known vocabulary and understanding it with the help of context and dictionaries
we explicitly teach vocabulary at the beginning of each unit and use research-based methods to aid recall
studying setting, plot, and characterisation, and the effects of these
we build on this foundation each year in increasing complexity
make an informed personal response, recognising that other responses to a text are possible and evaluating these
we build an increasing critical voice and build interpretative skill
write accurately, fluently, effectively and at length: a range of other narrative and non-narrative texts
we write for real purposes and audiences and link narrative writing to reading
The Year 7 -13 curriculum follows three threshold complex knowledge webs of: inference, writers' intention, and reflection in writing. These knowledge areas underpin the choice of topics and are the driving force for the whole curriculum. The topics and texts are sequenced to be increasingly challenging through years 7 to 13, with clear end points based on knowledge. In years 12 and 13, students learn an advanced arsenal of terminology and concepts that can be used for precision in academic writing on literature. The thresholds are returned to in each term with knowledge webs being reminded, honed and developed: in this way it works on a snowballing principle. This also aids long term memory and ensures that all learning is connected to previous units; this facilitates progress and success for all students.
Each term has explicit curriculum goals; schemes of work are clearly phased with components of learning outlined on short term plans with clear goals, end points and progress check points. We ensure that all students, including those with SEND can access and achieve the goals in our curriculum; this is through strategic support and challenge.
Check- ins are formative assessments and take the form of multiple choice/quiz knowledge checks for immediate diagnosis of students' weaknesses and misconceptions. Summative assessment are the end goals and take the form of written response to reading and writing for audience and purpose. In this way assessment follows a progression model.
Through reading, comprehending, analysing and evaluating a rich and broad breadth of texts (both of the canon and new YA texts), students will be able to use the vocabulary and style that they have been exposed to as a springboard for their own writing. Oracy is of vital importance in this model as students are encouraged to articulate their ideas, and those of others, through planned and spontaneous performance and debate. Vocabulary will also be taught at the beginning of each unit and constantly returned to. All forms of writing poetry/fiction/drama/non-fiction will be covered each term in order to ensure mastery of skills; in this way skills are snowballed. This culminates at Advanced level with the approach as outlined by D. Royce Sadler- that 'student development is multidimensional rather than sequential, and prerequisite learnings cannot be conceptualised as neatly packaged units of skills or knowledge. Growth takes place on many interrelated fronts at once, and is continuous rather than lockstep.' In this way, knowledge is built upon; students are supported to meet our curriculum goals whilst others are challenged to move beyond; in addition, students are equipped to study English Literature as undergraduates.
Strategies to support ALL students, including disadvantaged and SEND, to achieve curriculum goals
Routines for learning
Seating plans provide a suitable partner to work with and easy access for teacher and TA to assist
Books marked with clear formative feedback and encouragement; assessments have clear criteria to assist peer, self and teacher assessment
Larger/ coloured printing of resources where applicable; PowerPoints have coloured background, especially green/blue
Consistent acronyms used to assist long term memory used explicitly in teaching eg STEAL/DAFOREST/COMPASS/SPACEGP. Memory sometimes supported with symbols and actions
Use of working walls and displays in classrooms when possible.
Use of cloze exercises, images, True and False and multiple choice to build confidence and contribute to short term wins
Revision: Explain and demonstrate strategies for learning content and vocabulary – association, visuals, creating cards; activities used to promote long term memory recall such as retrieval tasks in starters, use of homework with challenge, use of vocabulary in bold on slides.
Strategies for reading
Teachers lead the reading to enable all students to build confidence
Support with use of reading pens
Silver Step used to ensure success
Understanding is frequently checked through achievable quizzes and questions
Reading strategies used eg 3,2,1, rule & GASE & symbols to encourage close reading and comprehension as well as activation of prior knowledge and teaching vocabulary explicitly
Bookmark with vocabulary used to encourage recall and follow reading
Where possible reading texts will be clearly laid out with numbered lines
Thorough diagnosis of reading (decoding, comprehension, fluency, phonics) on entry
Promotion of 'cheat' reading ie reading just first lines of paragraphs and reading down the middle
Strategies for writing
Silver Step used to ensure success
Larger exercise books for writing to assist with editing, length and detail.
Use clear strategies for writing eg 5 step plan for creative writing with focus on structure; 7 step plan for promoting a point of view; scaffolding using sentence starters; vocabulary; slow writing and sentence upgrades
Modelling of all writing tasks prior to writing; use of me, we, you; use of walking talking mocks
Strategies for oracy
Silver Step used to ensure success
Clear instructions both verbally and on written resources eg power point.
Careful questioning and use of thinking time
Focus on performance and variation when reading texts
Talk through homework and check understanding and offer extra support as appropriate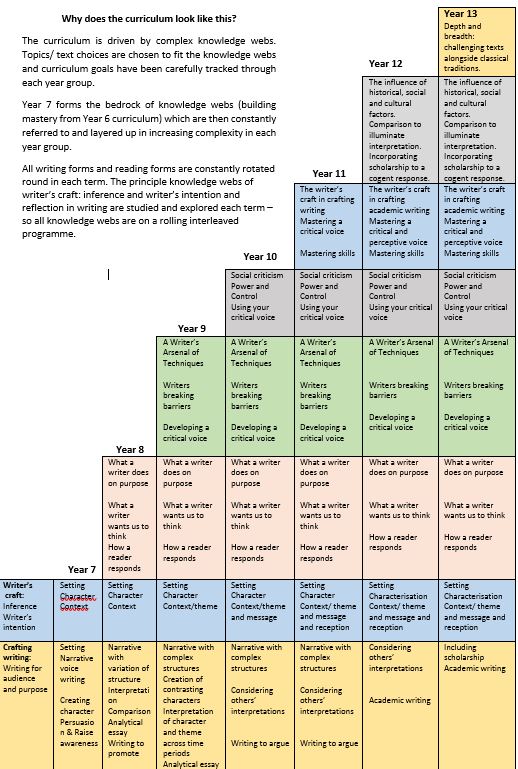 ---
Key Stage 3 National Curriculum Audit for English
---
---