JMSport

JMSport is the new name for Ledbury Leisure Centre, formerly run by Halo Leisure.
---
Due to the current government restrictions, JMSport is unable to open for bookings. Your patience is much appreciated during this time.
Stay home, stay safe
The JM Sport Team

---
JMSport offers the following activities:
You can book Badminton and Squash courts and Trampolining sessions by clicking the links above or by clicking the
Book Now

button at the right or going to the booking website here . The booking website is mobile friendly, so bookmark

https://jmsport.simplybook.it/

on your phone now.
Phone number for JMSport is 01531 638481. Please note that this is only manned when the centre is open to the public, currently Monday – Friday, 6pm – 9:30pm.
---
Contact details for the other activities are given below.
Aikido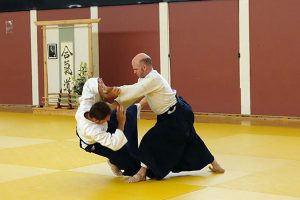 Learn Aikido with Sensei Steve Branagan (4th Dan) who started Aikido in 1987. His main links are with Shin Mei Kan dojo in London where he began training in 1989 with Dee Chen Sensei (6th Dan Shihan), Eric Beake Sensei (6th Dan) and Steve Beecham Sensei (6th Dan ).
Fee is £6 per evening, £4.50 for students/ unemployed per evening and is payable on the night.
Classes are open to anyone aged 16 and over and take place on Mondays and Fridays from 6.30pm until 8.30pm
Membership of British Birankai is a requirement and an annual fee (£35) will have to be paid once the student commits to the training. This also includes insurance cover.
Beginners are welcome. Please wear loose clothing and just come along to join the class. The British Birankai website provides more detailed information about Aikido, its history and our organisation and you can find out more about the Ledbury Aikido Dojo here.

Badminton
Play badminton either with the Ledbury Badminton Club, or just book a court and play.
The Ledbury Badminton Club meet every Monday from 6:30 till 9:30. They are a social club (ie: not competitive).  See www.ledburybadmintonclub.org.uk for full details.

If you want to just come and play, book click here:
Basketball
Play basketball with the Ledbury Leadonites, whe meet Tuesdays and Thursdays, 6:30 till 9:30. Find out more about the Leadonites at the Youth Basketball League and from their own website

Football
The Ledbury Swifts Football Club train outside on the astro every Tuesday and Wednesday October till March. Contact Club Vice President, Nick Fish on 07737 028297 for more information.

Karate
Meets Mondays 6:30 to 7:30, except for Bank Holidays, term-time only.
Dave Bennett is a coach for English Wado-ryu Sport Karate Association and can be contacted on 07917685805.  More information on the Wado-ryu Sport Karate Association can be found on their  website at www.ewska.com or by phoning 0121 3555118.

Please contact Dave Bennett directly to book or get more information.
Squash
We have two glass backed squash courts that are bookable for £9.00 for 40 minute. Bookings are every 45 minutes to allow 5 minutes for turnaround. You can check availability and book by clicking the link here
Table Tennis
The Table Tennis Club runs between 5.30 – 7.30 every Thursday evening. All abilities welcome.
For information contact Terry Harris on 01531 249361 or email terryharris220@gmail.com

Trampolining
Our expert coach, Steve Marsh, is pleased to offer trampolining coaching at JMHS from January 2020.
 

Beginners age 6+

 

Improvers

 

Adults 14+

 

Wednesday

 

6.00pm – 7.00pm

 

7.00pm – 8.00pm

 

8.00pm – 9.00pm

 

Friday 

6.00pm – 7.00pm

Assessment sessions

7.00pm – 8.00pm

 

8.00pm – 9.00pm

 
Beginners 6+: Hugely popular, this course gives children the chance to move from basic bouncing to front and back landings, with plenty in between as they work through six trampolining awards. Come on Fridays for a free assesment session to see if trampolining suits you.
Improvers 6+: Heading for the big somersault, children aged six and up work through five award stages (levels six to ten) and progress with every session.
Adults 14+: Re-discover the joy of the jump with trampolining sessions for adults and young people (from 14 years). An increasingly popular way to get fit and have fun for all ages.
A course of six sessions during JMHS term time will cost £40, although there is a three week course this December for £15. Check availability and book by clicking the link here.
---