Careers
---
---
Careers at JMHS
At John Masefield, we are committed to providing our students with a comprehensive programme of careers information, education, advice and guidance.
Careers and work-related education is an important part of the curriculum that we offer within the school to our students. Th curriculum section of our website links to the Careers Curriculum Overview and the Careers Termly Curriculum Plans for each year group.   Our Provider Access Policy is available on our policies page:  https://www.jmhs.hereford.sch.uk/about-us/policies/
For more detailed information, please contact Andrew Elliott (Careers Lead) by email at andrew.elliott@jmhs.hereford.sch.uk or by telephone on 01531 631012.
Careers education and guidance is a vital part of the educational experience at John Masefield High School. The school aims to deliver careers guidance that is impartial, confidential and based on the needs of individual pupils.  Our policy is to not only support, encourage and enable pupils to make informed choices and transitions related to their personal, educational and career development, but to also enable students to work on a wide range of skills that both educational institutions and employers seek. The careers programme is comprehensive and underpinned by the GATSBY benchmarks and guidance from the Department of Education.
Our Careers provision is tailored to our students in a way that reflects the area they live in, a wide range of potential employment opportunities, training and education options and areas in which the students themselves have requested to gain more information. Our aim is for students to understand exactly what opportunities are out there for them and to raise their aspirations for the future.
At JMHS, we teach Careers lessons once a week as part of our PSHRE provision. Students will learn about a wide range of employment opportunities, training, soft skills and Labour Market Information (LMI) over regular, half hour sessions.
If you or your child have taken part in a Careers activity with JMHS, please click the appropriate link below to leave us your feedback.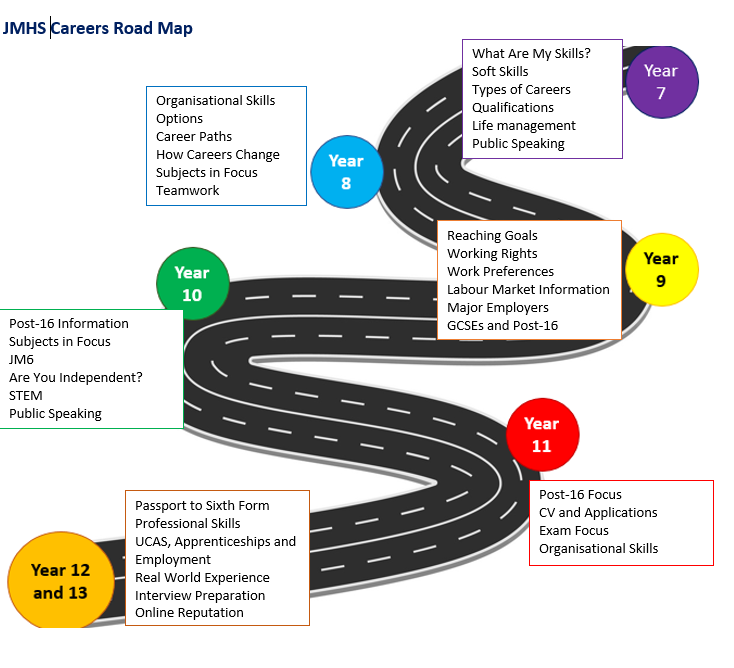 How do we review our programme?
The development of CEAIG (Careers, Education, Information, Advice and Guidance) is a continual priority in the school's strategic development plan with an aim to constantly improve the Careers programme for students. The PSHRE Team and Careers meet on a regular basis to develop, monitor, and evaluate CEAIG across the school. Progress towards the Gatsby Benchmarks is evaluated using the online Compass tool (as recommended in Careers guidance and access for education and training providers).  This is done using the Compass + platform tool throughout the year. The Careers team also measures careers events and impact by using both student, parent and staff evaluation forms.
JMHS measures and assesses the impact of its Careers programme for students regularly through our bespoke Careers Curriculum, in addition to a detailed annual review of progress. The careers programme is evaluated annually with the next review in Autumn 2024.
National Apprenticeship Week 2024
JMHS will be running special events to help our students understand more about Apprenticeships in February; these will take place during PSHRE Careers lesson time, with the potential for more popular events taking place during the school day!
If you are interested in finding out more about Apprenticeships, details of the free events available on the National Apprenticeships Website should appear early December 2023 by using the following link:
National Apprenticeship Week Free Events 5th to 11th February 2024
Here you will find information relating to careers, apprenticeships and university applications
JMHS has a careers adviser, Mrs Kelly.  Mrs Kelly works in school on Tuesdays between 8.30 am and 4.00 pm during term time and is based in the Careers Room in The Hub. Any student can drop in to speak to Mrs Kelly before school, at brunch or lunchtime on a Tuesday.  Mrs Kelly can support students to make informed decisions on their future choices by exploring the following options:
Identifying possible careers
Further and Higher Education courses
Finding and applying for apprenticeships
Employment skills and help with job searching
Students can request a more in-depth interview with Mrs Kelly via their tutor, Head of Year, Mr Elliott (Careers Lead); Sixth Form students can be referred via their mentor. However, priority for interviews will be given to students likely to need most support, for example Year 11 students who want to do an apprenticeship after their exams.
In addition, please note that all students have free access to careers advisers from the National Careers Service: advisers are available 8am to 10pm, seven days a week on 0800 100 900 or via webchat.
We encourage students to grasp the opportunities available to them, both inside and outside of school, to develop the knowledge, experience, skills and attitudes which together with getting the best exam results will equip them to make a successful transition to working life. Activities and resources that can help with this process include:
Taking an active part in the careers lessons which are part of school's PSHE programme.
Attending careers talks in school; some of these are delivered in assembly and others are sessions students can go to voluntarily.
Attending Options Evening (lower school).
Attending open evenings/information events held by college/sixth form/training providers and using their prospectuses/websites, to find out about what courses and qualifications they offer, how they will be taught and assessed, and what the entry requirements are.
Going on trips to local employers, training providers, colleges, universities.
Doing work experience and/or voluntary work.
Taking part in extra-curricular activities.
Speaking to people who know the students well, such as form tutors/mentors and subject teachers, parents and friends, to help identify and explore a student's strengths and values.
Speaking to a Careers Adviser – see above.
Networking with people who have experience of careers, education, and training options that are of interest to you, e.g. at the Careers Speed Networking Event

Young person friendly general careers information, quizzes and video stories are available at 

Careerpilot

Try a quiz to find career ideas – 

Buzz

 Quiz

For general careers information visit the

National Careers Service

  or try https://www.careerwave.co.uk/useful-career-resources-by-subject-area/

Barclays Life Skills can help young people develop the knowledge and skills they need for working life including virtual work experience, register 

here

There is a great careers section at 

BBC Bitesize

 
For information and advice about Higher Education options and choosing A level study, try the following sources of information;
www.theuniguide.co.uk – degree ideas and HE advice
www.informedchoices.ac.uk – find out about how subjects taken at A level can affect choices at University and later on in life
www.prospects.ac.uk – applying to university, career information and what careers you can seek with a degree subject
Apprenticeships and Work Opportunities