Paris 2019
Sunday 23 June – Thursday 27 June
Travel
Astons Coaches and Ferry (outbound) with P & O Dover to Calais and Eurotunnel (return).
Contact Numbers
Mrs Knight (Party Leader) School phone:                                                     01531 631012
Astons Coaches:                                                                                              01905 820201
FIAP Jean Monnet Paris:                                                                                00 33 1 43 13 17 17
30 Rue Cabanis 75014 Paris                                                                           www.fiap-paris.org
 Accommodation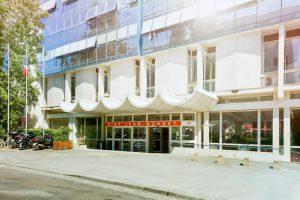 Fiap Jean Monnet is on the Left Bank in Central Paris, near the Sorbonne University. Rooms mostly accommodate 4 students. All rooms are en-suite. There is a light, modern social area with a small café with internet connection.  In addition there is an outdoor courtyard for table football, table tennis and giant chess as well as the al fresco eating area.
Food
Breakfast is typically continental and fresh fruit or yoghurt is available to purchase in addition.  Hot or cold buffet style meals are served in the evenings with a drink included. Students will also need some euros (and sterling) to buy 3 lunches and an evening meal on the return journey.  On the outward journey it may be an idea to provide a packed breakfast and lunch although we will be able to buy breakfast on the ferry (in euros or pounds).  Please make sure you have a water bottle to refill, especially if it is hot!
Medication and Special Diets
Please let us know at the meeting if there is anything on your Additional Information Form that needs further explanation or updating.
Staffing
Mrs Knight (Party Leader), Miss Trezeux, Mr Kerr, Mr Henderson and Mrs Whitton
Key Items to Take
One medium / small suitcase or bag
A backpack / handbag (large enough for phone, camera, sunglasses, packed lunch, water etc)
Your purse or wallet with euros and pounds
A pen, notepad and A4 document wallet for maps, leaflets etc
Comfortable shoes / trainers (there is a lot of walking)
Toiletries (may need sun cream – ever hopeful!) and towel
Lightweight waterproof jacket (also a possibility!)
Torch
Phone, charger and adapter plug (check network and charges beforehand)
Pillow / cushion / blanket / music / cards / headphones or other entertainment for the journey
NB Any valuable items are your own responsibility!
 Making the most of your trip:
Although there will be no formal requirement for follow-up work from the trip, we would strongly recommend that students keep a diary in French and add photos, leaflets, tickets, etc.  As well as being a lovely keepsake, this will be of benefit in future writing and speaking activities. We will use this in lessons on our return.
Reminders to enable students (and staff) to have a safe and happy trip:
Please make sure you have read and discussed the full Code of Conduct with your parents / carers and have signed to say that you understand and agree to uphold these rules.
Stay in your room after lights out. If you need to speak to a member of staff, phone them. If you do not get through by phone, knock on the door of the closest staff member with another student from your room.  Staff room numbers will be made clear on arrival.
Respect the request for complete quiet after lights out so that everyone can sleep.
Keep your room tidy to avoid losing things and to be considerate of others.
During free time in the hotel and out in Paris, stay within the designated area, behave sensibly, take your bearings and make a note if necessary. Listen carefully to instructions.  NEVER go off on your own.  Always have access to the emergency contact card and make sure that your phone is charged and has enough credit should you need to make or receive a call.
Eat and drink sensibly, thinking ahead when buying your own picnic lunch etc.
Be respectful and inclusive towards each other.
Dress appropriately for Paris. It is a big city and it is NOT appropriate to wear skimpy clothes such as very short shorts or crop tops.  If you are at all unsure, ask Mrs Knight or Miss Trezeux before packing.  You also need to be appropriately dressed in day wear at all times in the hotel.
Paris 2019 Itinerary
Sunday 23 June
| | |
| --- | --- |
| 23.20 | Meet at JMHS for 23.45 departure |
Monday 24 June
05.30
Check in at Dover Ferry Terminal
06.40
Depart Dover with P&O Ferries
09.15
Arrive Calais ( local time + 1 hour ahead of UK time )
14.00
Anticipated arrival by coach at FIAP Jean Monnet
Safety talk with hotel staff, settle into rooms, shower and unpack.

Locate emergency Fire Exits (i.e. stairs, not lifts).

Walk past Notre Dame and the Ile St Louis for ice cream at Chez Berthillon and a leisurely browse around this charming island in the middle of the Seine.

19.00
Dinner and evening at the FIAP
Tuesday 25 June
08.00
Breakfast at the hotel
09.00

Meet to walk to the Rue Mouffetard to purchase picnic lunch (30 mins on foot)

A little time to discover this quaint area called le Quartier Latin

Coach pick up for river cruise on the Bateaux Parisiens

11.30
1 hour sightseeing cruise along the Seine
12.30
Picnic on the Champs de Mars looking at the Eiffel Tower
14.00
Visit to the beautiful area of Paris called Le Marais.  Central point – La Place Des Vosges.  Free time for shopping or optional visit to the Picasso Museum.
17.00
Return to the FIAP by coach
17.30
Dinner at the hotel
18.30
Meet coach
19.00
Eiffel Tower and 'Paris by Night' – guided coach tour
 Wednesday 26 June
08.30
Breakfast at the hotel
09.30
Purchase picnic from nearby supermarket then coach to Montmartre

Free time to visit the Sacré Coeur and this famous area on a hill overlooking Paris, see the street artists, buskers, only vineyard in Paris and buy some souvenirs.

13.30
Visit the Opera Garnier in Central Paris
15.00
Avenue des Champs-Elysées and the Arc de Triomphe

Free time to browse the shops

Meet and walk through the Tuileries gardens to the Place de la Concorde and the Louvre

18.00
Coach pick up for return to the hotel
19.00
Dinner at the hotel

French film at the hotel / evening walk to local sights

Pack for return
Thursday 27 June
08.00
Continental breakfast at hotel and prepare to leave
09.00
Depart hotel for return journey

Stop en route at hypermarket for last minute shopping and to buy picnic lunch

Visit to Vimy Ridge (First World War, Canadian Cemetery and museum)

16.55
Check in at tunnel terminal in Calais
17.55
Depart Calais
19.15
Arrive in Dover (local UK time)
23.30
Estimated return time to JMHS

We will give a more accurate time as we approach and encourage students to phone home if our arrival time will be significantly different