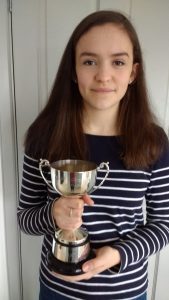 Y12 student Emily Henry who is studying A-levels in French, Drama and German enjoyed recent success on the 18 March at The Worcester Competitive Arts Festival winning the 'U17s Solo Acting Class'. She was delighted to be asked to perform her piece from Medea (an ancient Greek tragedy written by Euripides, based upon the myth of Jason and Medea) at a Gala Concert on Monday 27 March.  Emily is incredibly modest and hardworking with a real passion for Drama and Languages which she would like to study at university. She is a keen supporter of school productions, performing recently in the Sixth Form's production of Sweeney Todd as Tobias Ragg and also played in the orchestra for the hugely successful production of the Wizard of Oz.   Furthermore, Emily performed as 'Kitty' in Caitlin Ronan's one act play 'Gone But Not Forgotten' at Wellington Heath on 24 March, which due to sell out audiences, is being performed again on 4 May at John Masefield High School. Please see recent article for more information. http://www.jmhs.hereford.sch.uk/news/gone-but-not-forgotten-a-play-written-by-caitlin-ronan-friday-4-may/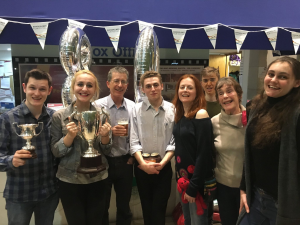 Former student Ben Mowbray who studied A-levels in Dance, Drama and English Literature and successfully runs his own Theatre Company 'Our Star Theatre Company' has enjoyed further success with LADS.
On Saturday 11 March, Ledbury Amateur Dramatic Society won first place at the Hereford County Drama Festival at The Courtyard with their entry, 'The Last Bread Pudding' which picked up three well deserved awards: 'Best Actor', 'Best Director' and 'First Place'. This award-winning production featured current JMHS students Jason Johns and Daria Kokidko-Da Silva, and former students Ben Mowbray ('Best Director') and Georgia Gill.
The cast will be competing at the All-England Theatre Festival Quarter Finals at the Highbury Theatre Centre in Sutton Coldfield on Saturday  8 April, as well as at The Courtyard again on Tuesday 25 April at a fundraising evening for the charity Breast Cancer Haven, and at a 'pay-what-you-can' evening at The Market Theatre Ledbury on Saturday 13 May.   They would welcome your support and we wish them continued success.