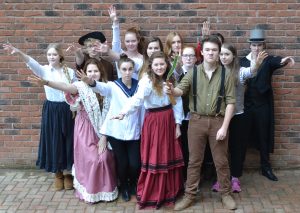 If putting on what is considered one of the most vocally intricate and musically challenging stage shows was not enough, the extremely talented Sixth Form students of John Masefield decided to do it without any input from the teachers! This was the brainchild of Emma Warren, Year 13 student and Artistic Director for the show, who decided to embark upon this mammoth task for her Extended Project Qualification (EPQ) and just to make it that bit more challenging, all the music was played live!
Based on Christopher Bond's 1973 play, Sweeney Todd is one of darkest musicals ever written. The show tells the unsettling tale of a Victorian–era barber who murders all and sundry from his barber's chair for revenge whilst Mrs Lovett downstairs bakes the bodies into meat pies, selling them to the unsuspecting public. Gruesome!
The production of Sweeney Todd is the culmination of eight months of hard work for Emma and the all Sixth Form cast. The show would be a challenge for most professional companies and showcased the tremendous depth of acting and musical talent at our Sixth Form.
Poignantly Emma and the team dedicated the evening's performance to the memory of Caitlin Ronan, one of our Sixth Form students and friend to many of the cast, who sadly passed away very recently and who loved acting and singing.
Cast

Sweeney Todd – George Chambers

Mrs Lovett – Emily Cleall

Anthony Hope – Destiny Dawe

Johanna – Mollie Heath

Tobias Ragg – Emily Henry

Judge Turpin – Jason Johns

Beadle Bamford – Lucy Admans

Beggar Woman – Paulina Mikulicz

Adolfo Pirelli – Jason Johns

Jonas Fogg – Jakub Łukaszonek

Company – Rosy Turner; Hannah Carney; Erin Hunter; India Sockett

Orchestra 

Flute – Becky Shaw

Oboe – Mrs Goldup

Saxophone – Ryan Ing

Violin – Freya Henderson

Cello – Oscar Van Vuren

Keyboard – Elen Clarke

Creative Team

Artistic Director – Emma Warren

Director – Paulina Mikulicz

Director – Jason Johns

Musical Director – Emma Warren

Choreographer – Destiny Dawe

Lighting – Miss Carnie

 

Sound – Hugo Robbins-Toth & Sylvie Slinger

Set – Mr Massey

Prompt – Ella Bevan

Backstage – Ms Punt; Miss Goodall; Mrs Underwood-Webb; Daria Kokidko da Silva

Photography – Millie Park

Programme & Publicity – Alice McClusky