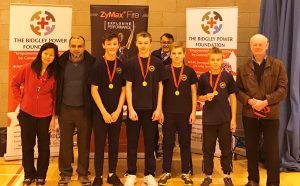 After winning the county tournament, our KS3 Boys' badminton team travelled to Birmingham to represent Herefordshire in the Regional Badminton Finals. This is the third time the boys have made it to the regionals and they were determined and full of confidence to make it third time lucky. The matches consisted of two singles games and three doubles games.
Chad Warren started the tournament on the front foot by comfortably winning his singles rubber. JJ Hobson and Max Williams stepped up to then win their doubles rubber followed by Sam Nicholls winning his singles game. The boys relaxed in the doubles eventually winning the match 4-1.
The team were able to win their second match 4-1 meaning they were through to the final. Nerves were building but the confidence hadn't dropped. Chad Warren was tested but not enough to stop his momentum winning his match. The first doubles pairing of JJ and Max were beaten but not out. Sam faced a tough, strong opponent but was able to keep his nerve and play some excellent badminton. One more game to take the team through to the National finals; up stepped Chad and Max and after some excellent doubles play, took the win and took the team to the next round.
The team has made John Masefield sporting history to be the first ever team to make it to a National final. The boys are a credit to the school and we wish them all the best for the National Finals in May to be held in Milton Keynes.