In December students from all year groups were invited to nominate people who they believe are the best role models for the British Values;
Democracy
The Rule of Law
Invidual Liberty
Mutual Respect
Tolerance of those of different faiths and beliefs
The competition inspired some great debate and discussion among the students during form time with some fantastic people nominated for inclusion.
Congratulations to the winning entries listed below who have received 5 house-points for their successful nominations. The entries are displayed in our school Hall of Fame display.
Barack Obama –  Ben Fisher & Michael Stunt
Marie Curie – Joanna Stoklosa & Katrina Wilband
Jeremy Corbyn – Caitlin Jenkins
Alex Danson – Jess Bocking
Mo Farah – Josh Jenkins & Jay Smart
Princess Diana – Laura Davies
Colin Kaepernick – Seb Fell & Ben Lewis
Barack Obama – Olivia Morris, Saffron Brinksworth, Lucy Milner & Sophie Crane
Nelson Mandela – Ellie Gale, Jack Tubman, Katie Dudley, Rio Roberts & Kay Naiker
Prince Harry – Laurel Baker, Amy Davis and Leilani Hoskins
George Michael – Charlotte Jeffreys-Hall
David Attenborough – Hannah Chapman, Lydia Beagles, Eloise McKinnon & Sophie Bocking
Nicole Adams – Piper Meek & Talia Jones
Well done to everyone who entered.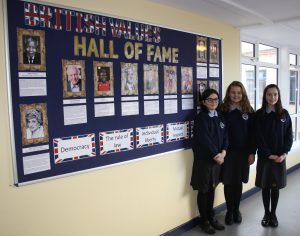 Pictured: Lucy Milner, Olivia Morris & Saffron Brinkworth with the British Values Hall of Fame display