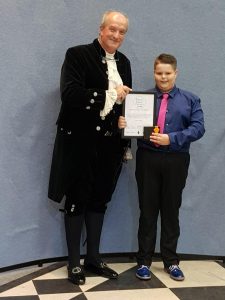 Reo Selwyn has had his public-spirited kindness recognised by being given a young good citizens award through West Mercia Police, after being nominated by local Police Community Support Officer Dave Alexander from Ledbury.
Reo used his own pocket money for materials to make greeting cards, which were then available for donations at Coffee#1 in Bye Street. He also organised a tombola and his fundraising efforts for DHK (Dogs Helping Kids) in conjunction with his former school, Ledbury Primary School, managed to raising £1,500 pounds in just a few weeks.
Proud father Colin said: "He's done well. We are very proud of him." And proud mum Jenny said: "Now Reo is looking for other charities to raise funds for. He's not a selfish person, and recently he's been helping Megan Baker House with a raffle."
Dogs Helping Kids is a charity that brings dogs into school, to help create a calm environment for the youngsters.