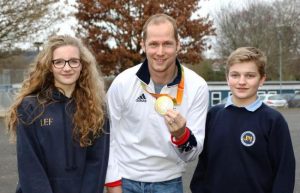 Students and staff were treated to an inspirational assembly delivered by seven time Paralympian gold medallist Sascha Kindred OBE who spoke about his experiences as an elite athlete and his crucial formative years that helped shape the phenomenal success that he has enjoyed.
The audience were spellbound by his heartfelt and frank stories of struggling against adversity which led him to refuse to accept barriers to achieving his dreams. The students were captivated in particular by incredible insights into the London and Rio games which saw storied filled with heartbreak, humour and ultimately triumph. Hearing such incredible stories sent a powerful message to students though this was made even more special because of Sascha's personal connection to the county.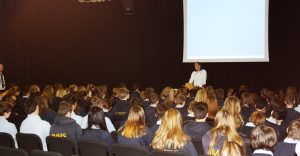 The message of daring to believe and striving to achieve was one that will doubtless have left a lasting impression on the students, many of whom stayed behind to talk to Sascha who praised the students for their excellent manners and behaviour. Sascha has promised to return to JMHS in the future to come and update us on doubtless more gold medals and records that he will go on to achieve.
Photo courtesy of Ledbury Reporter