---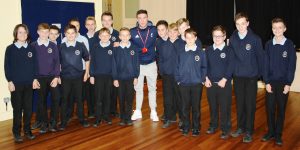 Jack Rutter, who was the Captain for the GB and England Paralympian Cerebral Palsy team, visited JMHS on Wednesday 9th November as the guest speaker at the Netball and Cricket County Champions celebration. Jack Rutter is a local athlete who has overcome an incredible set back in his sporting career (please see link to article http://www.telegraph.co.uk/paralympic-sport/2016/09/07/paralympic-footballer-jack-rutter-the-pain-i-felt-back-then-is-a/  and Rio Advert featuring Jack Rutter https://www.youtube.com/watch?v=JHxtFZ8brXI).
Jack was invited in to present the sports hoodies and meet the students involved. As part of his visit he shared his story through a highly motivational speech and showing the Channel 4 advert, as well as signing autographs and talking with our students. It was great for our Year 7 student Ruby to meet Jack again! Ruby plays CP Football and has previously been the mascot for Jack and his team at the CP world cup where she walked out onto the pitch with the Russia V Australia match. We hope Jack can return to JMHS in the future to inspire even more students by sharing his truly engaging story.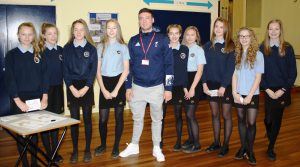 Also, congratulations again to the Year 9 Netball Team and the Year 7 (now Year 8) Cricket team in their County Tournament success!