On Thursday 15  Septemb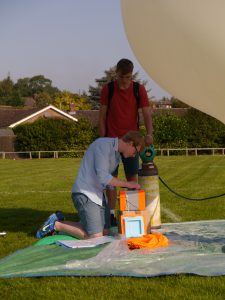 er, Sixth Form student, Ryan Ing, launched a high altitude weather balloon to collect data on how pressure, humidity and temperature changes occur through the different levels of the atmosphere.
The experiment was for his Extended Project Qualification which is an optional independent project worth half an A level.  Mrs Law who runs the EPQ project said "Ryan has been impressive in his organisation of the project, with meticulous planning, seeking Civil Aviation Authority permission, sourcing materials and finding sponsors to help finance it.  The sponsors were able to attend the launch and were extremely complimentary of Ryan, the Sixth Form and staff they met.  To conclude the EPQ project, Ryan will now analyse the data captured to finish writing his report which he will then present in the spring term to students and staff."
Students were able to track the balloon's flight and this is what it looked like balloon-track.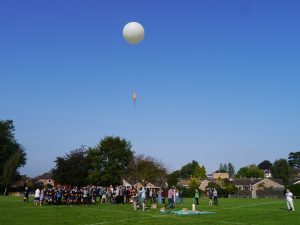 The balloon and its payload rose to 81,500ft before the drop in atmospheric pressure caused the balloon envelope to burst. The payload then went into freefall, reaching a speed of 110mph before the parachute opened.
During the balloon's flight, Ryan decoded the radio signal transmitted by the on-board computer and tracked its location from the chase vehicle. The payload landed in Presteigne after a flight time of 2hr 20mins, after ascending to above 96% of the atmosphere and reaching a minimum temperature of -50.9oC.
The project was kindly sponsored by Speller Metcalfe, Fugro GEOS and Mike Bush.   Ryan said  "he would like to thank all of his sponsors, his Physics teacher (Miss Williams), School ICT Manager (Mr Henderson) and the school for their generosity and support with his endeavour."
Mr Hawksworth, Head of Sixth Form said "Ryan is a great role model to younger students interested in furthering their study of science and geography.  It was an exciting occasion for the many spectators from Y7-Sixth Form who witnessed the launch.   On the back of this, Ryan is also planning to visit lower school assemblies to share the data to continue to inspire students. This whole experience will be invaluable in the future when Ryan applies to study Meteorology at university – he is without doubt a remarkable student."