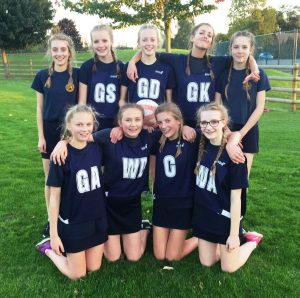 Year 9 Girls dominated the County Netball Tournament on Wednesday 5 October 2016. Out of sixteen Herefordshire schools they now hold the title of Herefordshire U14 County Netball Champions!
In the pool stages they beat John Kyrle, Aylestone and Wigmore convincingly and we topped the group. Teachers from other schools were commenting on the outstanding ability and attitude of our students and wished us all the best in the semi-finals. In the semi-final we faced Hereford Cathedral School, JMHS's nemesis in girls sporting events; the girls were nervous as well as excited and focussed on the task ahead. At half time, JMHS were losing 3-1, however, they were more than determined to turn the game around. A few changes at half time ensured we defended from the front, balls were being turned over all over the court and our students really had the bit between their teeth. It was a fantastic team effort which highlighted the resilience of our students to claw back a victory to beat Cathedral 4-3. The screams and celebration of this win was incredible, however, they had one more team to face.
The final was played against Whitecross who the girls have beaten this year in the league, however, it was approached without complacency; shots from Jess Neath and Jess Schofield were rolling off the net and out of court and it took a few minutes to settle into a rhythm. T
he JMHS students stuck together and worked tirelessly from attack to defence to finish the game win an 8-4 win. The County Champions, lead by Captain Gemma Clarke, now head to the West Midlands Netball Tournament in January.
We are looking for sponsors/donations in order to kit the girls out for this tournament to ensure they look and feel the part, at a tournament JMHS has never reached before! A fantastic milestone for JMHS PE and School Sport. Well done Girls!!