Careers
Welcome to John Masefield Careers
At John Masefield, we are committed to providing our students with a comprehensive programme of careers information, education, advice and guidance.
Careers and work-related education is an important part of the wider curriculum that we offer within the school to our students.
We strive to follow the Gatsby Benchmarks:
A stable careers programme
Learning from career and labour market information
Addressing the needs of each pupil
Linking curriculum learning to careers
Encounters with employers and employees
Experiences of workplaces
Encounters with further and higher education
Personal guidance
The careers programme at JMHS is delivered to all year groups. We regularly use the following methods to support students with their future career choices:
A Careers Fair
Assemblies
Guest Speakers
PSHE Sessions
Tutor Sessions
One to one Career Interviews
Work Experience
Workshops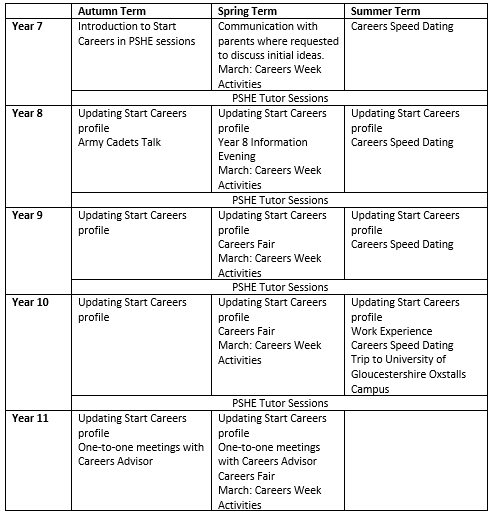 To access the login page for Start Careers Guidance, please click the image below:

Here you will find information relating to careers, apprenticeships and university applications.
JMHS has a careers adviser, Mrs Rose.  Mrs Rose works in school on Tuesdays between 8.30 am and 4.00 pm during term time and is based in the Careers Room in The Hub. Any student can drop in to speak to Mrs Rose before school, at brunch or lunchtime on a Tuesday.  Mrs Rose can support students to make informed decisions on their future choices by exploring the following options:
Identifying possible careers
Further and Higher Education courses
Finding and applying for apprenticeships
Employment skills and help with job searching
Students can request a more in-depth interview with Mrs Rose via their tutor, Head of House, or Mr Elliott (Careers Leader); Sixth Form students can be referred via their mentor. However, priority for interviews will be given to students likely to need most support, for example Year 11 students who want to do an apprenticeship after their exams.
In addition, please note that all students have free access to careers advisers from the National Careers Service: advisers are available 8am to 10pm, seven days a week on 0800 100 900 or via webchat.
We encourage students to grasp the opportunities available to them, both inside and outside of school, to develop the knowledge, experience, skills and attitudes which together with getting the best exam results will equip them to make a successful transition to working life. Activities and resources that can help with this process include:
Taking an active part in the careers lessons which are part of school's PSHE programme.
Attending careers talks in school; some of these are delivered in assembly and others are sessions students can go to voluntarily.
Attending Options Evening (lower school).
Attending open evenings/information events held by college/sixth form/training providers and using their prospectuses/websites, to find out about what courses and qualifications they offer, how they will be taught and assessed, and what the entry requirements are.
Going on trips to local employers, training providers, colleges, universities.
Doing work experience and/or voluntary work.
Taking part in extra-curricular activities.
Speaking to people who know the students well, such as form tutors/mentors and subject teachers, parents and friends, to help identify and explore a student's strengths and values.
Speaking to a Careers Adviser – see above.
Networking with people who have experience of careers, education, and training options that are of interest to you, e.g. at the Careers Speed Networking Event
Doing a careers matching questionnaire to discover jobs that may match your personality, interests and skills, such as the short 'BuzzTest' http://icould.com/buzz/or the more in depth 'Game' (https://www.plotr.co.uk/game/ )
Using specialist websites; we particularly recommend: https://nationalcareersservice.direct.gov.uk/youngpeople/Pages/Youngpeople.aspxfor general careers information, advice and guidance ('IAG'), as well as Start https://www.startprofile.com/  and https://nationalcareersservice.direct.gov.uk/advice/planning/jobfamily/Pages/default.aspx for detailed information about jobs.
Similar information, but with more emphasis on videos featuring people talking about careers and the world of work can be found on plotr.comand www.icould.com
http://www.apprenticeships.gov.uk/for IAG about work-based learning (apprenticeships & traineeships), including searching and applying for vacancies.
https://www.barclayslifeskills.comfor help to develop skills for working life.
http://www.totalprofessions.com/hometo explore a wide range of professional careers.
http://university.which.co.uk/for IAG about university courses, including what A levels/BTECs are needed, and higher level and degree level apprenticeships.
http://www.notgoingtouni.co.uk/– not surprisingly covers alternatives to University, such as apprenticeships, gap years, employment
JobHero is a good resource for sample cover letters and job seeking advice. Their Ultimate Guide to Choosing A Career is worth a read.
Guidance on writing your CV can be found on the job site JobTed
Careers
Use this Career-ometer to compare career prospects in the West Midland region:

University
If you are looking at applying for a university place, check out the UCAS website where they give you all of the information you will need: