Today was spent doing activities at the chateau. We split into groups and did raft building, archery, aero-ball, orienteering and visited the mini farm.
We had a demonstration of cider making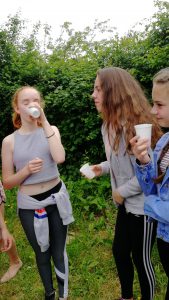 and then had a tasting of the locally made cider. In the evening we played games on the lawn. Weather was lovely in the morning, and we had a bit of thunder and rain in the afternoon, but not enough to spoil our fun.